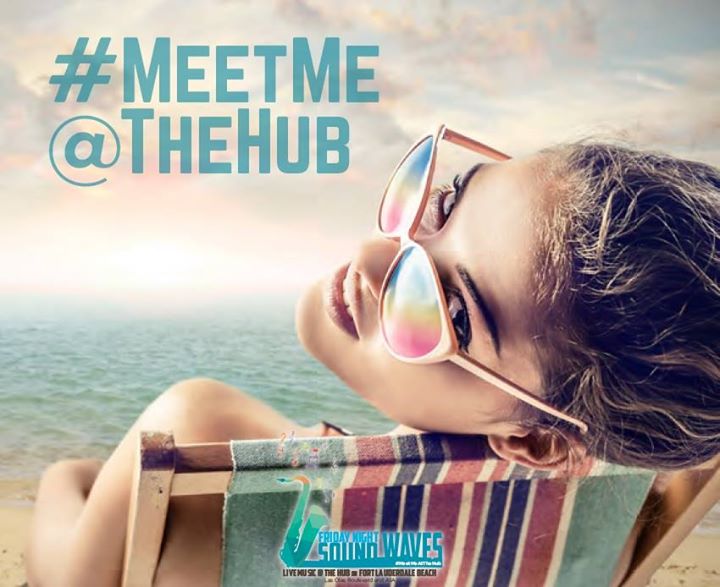 Taking place every Friday night from 5:30 – 8:30pm at "The Hub" on Fort Lauderdale Beach at Las Olas Boulevard and A1A, the 36-week Friday Night Sound Waves live music series is free to the public and features a diverse mix of Jazz, Blues, Country, Latin Fusion, Top 40, Reggae, World and Classic Rock performers. For more information and the complete schedule of performances and events, please visit FridayNightSoundWaves.com or follow Friday Night Sound Waves on Facebook  and Twitter.
Friday Night Sound Waves aims to entertain area locals and global visitors, from the young to the young-at-heart. Attendees are encouraged to slide off their shoes and slip into the weekend, while kicking back on the sand with family and friends, to take in the ocean breeze and spectacular sights and sounds as a lead into their weekend. Interactive experiences on select dates provide local artists, entertainers and non-profit organizations the opportunity to connect with the community through the common language of music, art, entertainment and fun. A Salute to the Military series to benefit United Way of Broward County's Mission United program will take place over several dates throughout the season.
Situated at "The Hub," the series takes place at the highly visible and central location, known as the heart of Fort Lauderdale Beach, accessible from 17th Street Causeway, Sunrise Boulevard, and its midpoint gateway, Las Olas Boulevard. An on-site information kiosk, which will direct visitors to the areas nearby restaurants, live music venues and attraction options, will also feature details on area hotel and restaurant specials via Fort Lauderdale Beach's official website, MyFortLauderdaleBeach.com.
With major funding provided by the City's Beach Business Improvement District, additional series sponsors include, the Greater Fort Lauderdale Convention and Visitors Bureau, the Fort Lauderdale Beach CRA, Pepsi Bottling Company / Mist and the It's Better on the Beach Restaurant Group. Media sponsors and partners, Travelhost of Greater Fort Lauderdale, Fort Lauderdale Magazine and Fort Lauderdale Media Publications, join performance sponsors, Bahia Cabana Beach Resort and Tsukuro. Area homeowner's and business associations are participating by sponsoring select nightly performances.
For more information, click on the event link.