A Brief History
Legend has it that the Indians woke one morning following a torrential rainfall and violent earthquake to find themselves camped beside a river on a site that only the night before had been dry and rocky. The Indians named the river "Himmarshee" or New River, which became a route for trading ocean catches at the Stranahan Trading Post with the early settlers, and Fort Lauderdale grew up around that site.
Spanning the north and south banks of Fort Lauderdale's New River is the Riverwalk Park, a waterfront park in the heart of Downtown. Along these historic banks, Native Americans brought their ocean catches upriver to trade, and early settlers brought their harvest for rail shipment north. This bustling area eventually served as Fort Lauderdale's birthplace. Today, lush tropical landscape and winding walkways link attractions, restaurants and shops on Florida's most beautiful mile. Riverwalk Park is a multimillion-dollar project involving state, local and private funding and combining the arts, history, entertainment, higher education and various businesses.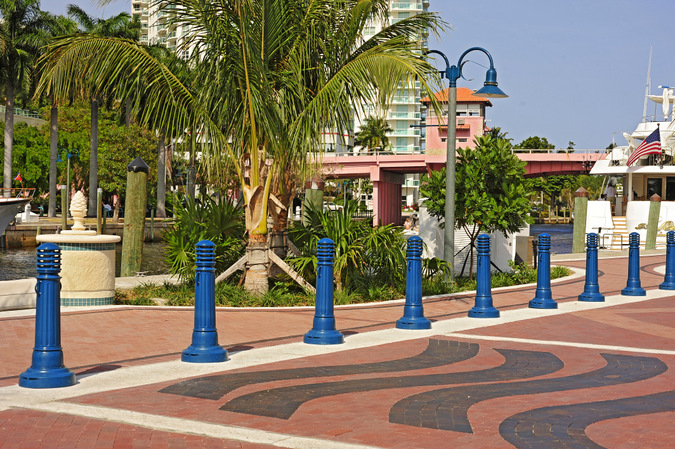 In 1986, the dream of a Riverwalk Park became realized with funding from a General Obligation Bond. At that time, Fort Lauderdale residents voted to spend $8 million on the Discovery Center (now the Museum of Discovery and Science) and $7.4 million on Riverwalk Linear Park. The initial seed funding for Riverwalk has encouraged over $1.5 billion in public and private investment and redevelopment along the New River. Riverwalk now hosts many and diverse cultural and entertainment experiences in a Downtown setting, and Riverwalk is quickly becoming home to more than 10,000 new Downtown residents.
The Riverwalk Park now serves as the crown that holds together the jewels of art, history, entertainment, culture, education, and business in our urban setting along the historic New River. As Downtown Fort Lauderdale emerges as a pedestrian-friendly world-class city, look for Riverwalk to play an increasingly important role as a quiet oasis in the hustle and bustle of City life and a vibrant gathering place for our emerging community.
Review The Riverwalk District Plan for a comprehensive update. Originally conceived in the Downtown New River Master Plan, the vision exists for a Riverwalk District as the urban center of Broward County, providing a unique South Florida destination and a cosmopolitan experience for all to enjoy.  A district where performances spill out of venues into waterfront parks; where walking to a gallery, a show, and dinner in one evening is a seamless, comfortable event; where a large-scale new development might incorporate a black-box theater or art-cinema along with complementary retail uses; where strategically placed arts and entertainment venues relate to the network of open spaces, streets, and surrounding neighborhoods; and where the variety of venues, public art, and events creates the destination, attracting a diverse group of residents and tourists of all ages.
The year 2011 marked the celebration of Fort Lauderdale's Centennial. The historic milestone offered us an opportunity to observe and honor our City's past. It was a time when neighbors young and old could reflect upon how Fort Lauderdale began, recognize the challenges we had overcome, and appreciate the accomplishments we had achieved. Now, in 2013, it is time to look ahead. It is time to prepare for our coming challenges and to anticipate the many opportunities that still await us. It is time to Fast Forward Fort Lauderdale!  Read about Fast Forward Fort Lauderdale: Our Vision 2035 HERE.
Fort Lauderdale Riverwalk – Florida's Most Beautiful Mile
One of the most memorable walks you can take in Fort Lauderdale is on the Fort Lauderdale Riverwalk. This recently completed linear promenade along the New River in downtown is considered by many "Florida's Most Beautiful Mile," linking boutiques, restaurants, shops and museums with lush, tropical scenery.
From the Historic District, including the 1901 trading post now called the Stranahan House, to the exciting Arts & Science District with the Museum of Discovery and Science, Riverwalk reflects the many faces of Fort Lauderdale – past and present. Riverwalk also encompasses Esplanade Park, with interactive navigational and meteorological exhibits, which is located at the foot of the Broward Center for the Performing Arts. Included along Riverwalk's path you'll find romantic gazebos, a picnic area, native plant exhibits and a butterfly garden.
Parks, Plazas and Gazebos along the New River at Riverwalk Park:
Laura Ward Plaza | Huizenga Plaza | Esplanade Park  | Smoker Park  | Connie Hoffman Gazebo | Rotary Gazebo | Esplanade Pavilion | Riverwalk South Gazebo